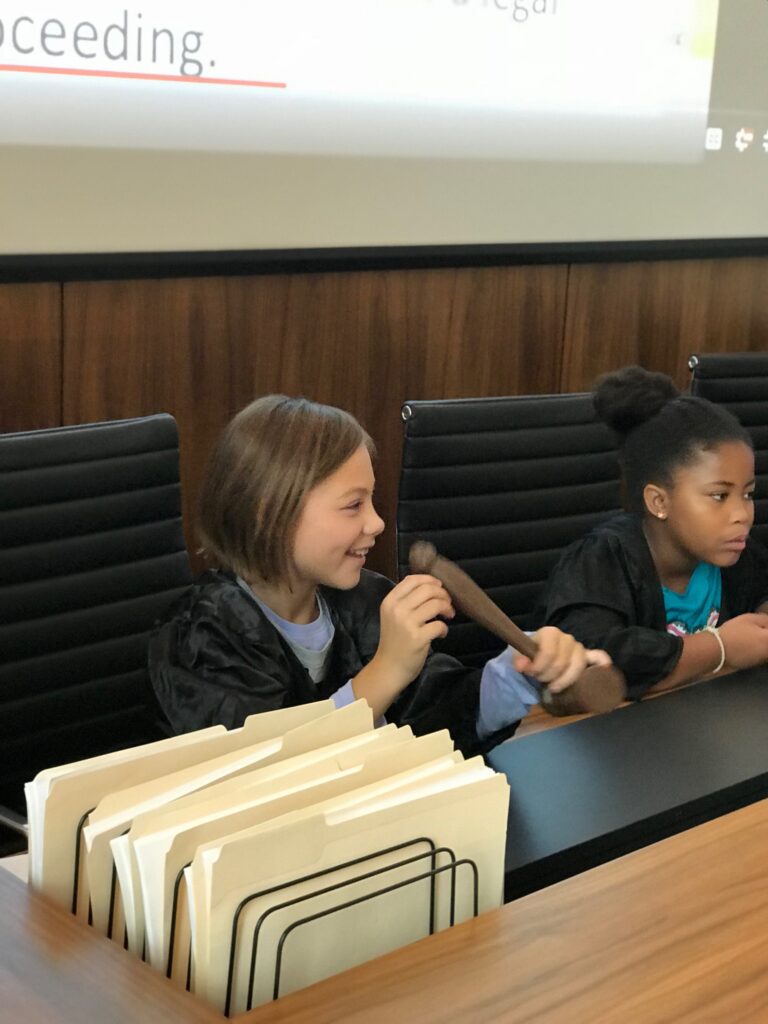 The Juris P. Prudence® Kids Virtual Mock Trial Academy is a standards-based, virtual mock trial program for 4-8 grade students, which is completely virtual! This distance learning program can be incorporated into your school's curriculum as an extracurricular program or an add-on course!
Our unique program gives students the opportunity to learn the key principles of debating in a completely virtual setting! This program allow students grades 4-8 to enhance their public speaking, research, writing, and listening skills, as they debate topics interesting to children.
Enter your contact information for details on how to bring this exciting Academy to your home or school!
Here's what parents had to say about our in-person academies:
-"My daughter came up to me after the Academy exclaiming she now wants to become a judge!"
-"It was well-organized! Thank you!"
-"Kids love role playing—and Juris Prudence helps get kids engaged, learning through practice. Great them, great volunteers, and a brilliant educational experience!"
-"The Juris Prudence Mock Trial was so realistic and a very interesting case. I will definitely be coming back in the future!" (Review from academy student)
-"Very nice event for children to begin to understand how the law works"
–"A great opportunity to expose children to the role of a judge & lawyer in a trial courtroom!"
–"A great opportunity to give kids a taste of what it's like in a courtroom; also helps kids in general to develop and defend their arguments."
-"Good opportunity to develop oratorical skills"
-"It was a really great experience—unique—in a great setting"
-"This event was well-organized, the curriculum sturdy, geared to the right age and my son really liked it. It was also exciting and cool to be at a university."
-"This is an excellent – well thought out workshop! The great level of detail was apparent in every step of the process – from registration to the set up of the classroom to ending interviews! The judge robes, the gavel and the judge's bench just put this over the top! The worksheets were of high quality. There were even snacks provided for the children. Excellent program!"
-"My daughter was so energized by the trial academy and it gave her a sense of confidence in her ability to speak up for her beliefs."