J.P. is the founder of the law firm, Juris P. Prudence & Associates. J.P. graduated law school at the early age of eleven years old, and she loves being a lawyer.   She also loves talking to her grandmother about her big legal ideas, including getting kids the right to vote! J.P.'s best friends are Sofie, Maddy, and Izzy. J.P. loves riding her bike throughout Washington, D.C. She never rides her bike without wearing her bright pink helmet!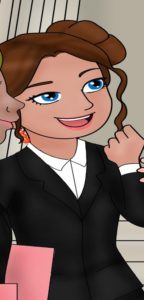 Sofia "Sofie" Flores Ramirez
Sofie and J.P. have known each other since they began law school at the National Kids Leaders Academy at just five years old.  They have been best friends ever since their first day of law school.
Sofie is an excellent researcher and writer.  In fact, she's one of the smartest kids at KLA.   She makes straight As on all of her report cards! Sofie has been the class president at KLA for several years because she is an excellent leader.
Sofie lives in the Washington, D.C. neighborhood known as Georgetown.   She lives with her mom, dad, her younger brother, Gabrielle, and her nanny, Señora Maria.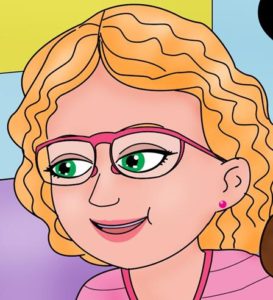 Madeline "Maddy Rosenfeld
Maddy and J.P. have been best friends forever! Maddy and JP met when Maddy and J.P. were in law school.  Maddy was sitting by herself in the school cafeteria, and J.P., Sofie, and Izzy approached Maddy to introduce themselves and to invite Maddy to sit at their lunch table.  Since that day, Sofie, Maddy, J.P., and Izzy have been best friends.
Maddy is a math and science genius! She loves what is known as intellectual property law.  She is always inventing new devices and creating patents to prevent anyone from stealing her great ideas.   Maddy loves working in the KLA science laboratory because that is where she gets her best ideas.
Maddy lives in Washington, D.C. with her mom, dad, and older brother, and twin sister, Ava.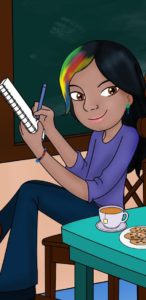 Isabelle "Izzy" Carrington
Izzy Carrington is one of JP's best friends.   While Izzy is an excellent lawyer, Izzy is known best for her beautiful artwork and her zany fashion designs.  Izzy never wears the same outfit twice, and each outfit that she wears is one of a kind because usually, she has designed and sewn the outfit herself!  In addition to being a great artist, Izzy is also a great investigator.  She can find out anything!   Izzy loves to dance, draw, and have a great time with her best friends, J.P., Sofie, and Maddy.  Izzy loves to joke, so you can always count on her to make any situation fun.
When Izzy was a baby, she was adopted by her two dads, Scott and Jeff.  Izzy was born in South Korea.  She now lives in the northeast quadrant of Washington, D.C.